After receiving much love from our readers (keep those comments coming!), we, the writers thought of living up to the purpose of this blog. We will try our best to come up with any random topic which can be related to any destination in Canada. Here's what I have been able to come up with after hours of deliberation:

Heli-skiing – British Columbia
To enjoy the best sceneries that North America has to offer, do it the extreme sport style – skiing. Heli-skiing, in particular, means that people will be taken by choppers to neighboring mountain ranges such as Selkirk and Monashee. For an unforgettable powder run, these mountain ranges are worth skiing on from Revelstoke City. Snowboarding and tree skiing are also popular among locals and tourists, and the best months to visit are from December until May.

Bicycling – Alberta
Whether it's only for a day or more, Alberta is one of the many cycling destinations that you can go to. Bike trails and roads that vary in size and terrain crisscross this wide and popular sports destination. Among the top trails include Icefields Parkway, which runs 300 kilometers long. Another one is Kananaskis Country, which is famous for its picturesque routes. The best time to visit here is before or after the peak season. For more information, you can check out the different bike trails in order to avoid the heavy traffic on certain occasions.
Dog Sledding – Yukon and Quebec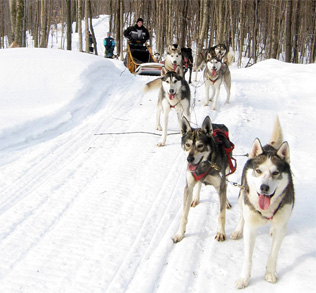 Yukon and Quebec are the perfect winter sports destinations. Dog sledding is the most popular, but there is still a need to monitor the changes in climate because it affects the yearly dog sledding season in participating provinces.

Whitewater Rafting – Chilko-Chilcotin-Fraser Rivers
For the adrenaline junkie, head over to the Chilko-Chilcotin-Fraser Rivers and ride through the class III and class IV rapids. June through September is the best time to visit, where the temperature spinsaround 20 degrees Celsius.

Canoeing – Bowron Lake Park
For a more peaceful or milder water sport adventure, try canoeing. This 116-kilometer stretch is comprised of several lakes and rivers in British Columbia. While here, it is also an excellent opportunity to visit the Quesnel Highlands and Cariboo Mountains.

These sports destinations are just some of the widely patronized in Canada. There are many other sports destinations which can fit your lifestyle and budget. So, what are you waiting for? Get your lazy bottoms off the chair and plan your sports destination holiday now!